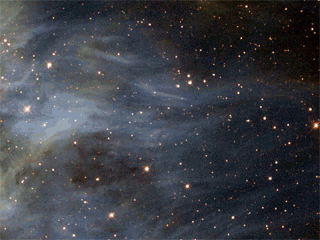 This is still a simple (now outdated) table-formatted page styled with CSS. We experimented with Cascading-Style-Sheet-compliant formatting here. But, when site was set up (circa 2002), Tripod offered and honored option to have either pop-up ads OR header/footer ads. Opting for pop-up ads, we accordingly planned CSS layouts for Gateway, Navigation and Other Sites pages. The results turned disastrous when Tripod subsequently imposed header ads — the positioning of which are impossible to predict.
Because of unpredictable header ads imposed "after the fact" by Tripod, CSS-layout positioning is not being employed on opening home pages. Site is being left generally as is or was (with dumb frameset, Flash5 and CSS2 samples) for memory's sake and reference. Nested CSS-positioning was explored on new Other Sites/ cssJS.html version with varying results:
Flash, Director, AfterEffects multimedia possibilities are great but unacceptable when player does not download and access to content is denied. Thus, we're using a mixed bag with XHTML, HTML, CSS, JavaScript and ImageReady animated GIFs.
The ultimate solution should be player- and browser-independent. We anxiously await SVG (Scalable Vector Graphics) — maybe using XML (EXtensible Markup Language) and/or XUL (XML User-interface Language) so graphics like Illustrator can be uploaded without a player.